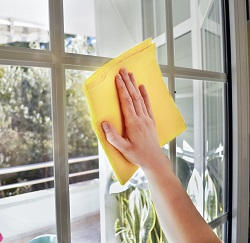 Office cleaning services are a brilliant asset to any business, helping to establish a clean, friendly environment that you are in control of. It is important for both staff and clients that offices are kept as clean and tidy as possible, and one great way to ensure that you do this in your business is by hiring in some outside help. Here are just some of the advantages of hiring in cleaning contractors to help with cleaning in your offices:

1. Professional - By bringing in cleaners into your office you know that you are bringing in professionals who are good at their job. This is extremely important in an office environment as it ensures that the job will be done efficiently and correctly, making sure that your office will look professional and like a high standard place to work. This will give clients and staff a good impression of your company. It is better to get in a professional team as opposed to any alternatives because you know that the cleaning staff will stay focused and get the job done for you.

2. Good Quality - by bringing in a cleaning company you can rest knowing that your office will be cleaned to a high quality as the cleaning agency will have the best equipment available to them. This ensures that a thorough clean of the office will be carried out daily, so that an optimum working environment is maintained throughout the building. Having the best equipment available also means that the professional cleaners will be able to get the job done quickly yet still to the highest standard, saving you money while not scrimping on quality - it simply makes great business sense.

3. Creates Good Environment - Having cleaning contractors working in your office helps to promote a professional image for your company showing both staff and clients that you are serious about your business and the cleanliness of your offices. Not only does this help to create a pleasant working atmosphere for your staff, thus reducing complaints, it also may help to draw in new clients who visit the office as they will see that your business is important to you by the level of care that you are taking with regards to the premises and the safety of your staff.

4. You Are In Control - when it comes to hiring in outside help for your office, this helps to give you all of the control. You are paying the cleaning staff meaning that they have to meet the standards that you set for them in your offices. In addition, many cleaners will also offer services such as kitchen cleaning or sofa cleaning meaning that you can ensure that not only are the offices and desks cleaned, but also that the relaxing spaces are cleaned too. Having this kind of control over your cleaning is important as it means your office is maintained in exactly the way you would clean it yourself, but without you having to spend the time and effort actually doing the cleaning.

These are just four of the many advantages of hiring in outside cleaners to help maintain your office environment. It is a great way to ensure that your office looks presentable and professional at all times without you having to spend the time and effort worrying or carrying out the job yourself.


You may also like: